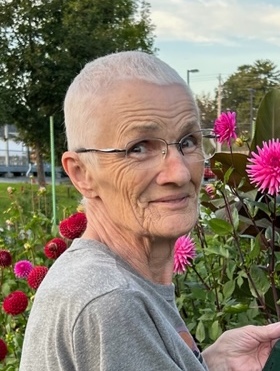 Obituary of Margaret Susan Dales
It is with hearts filled with loss and sorrow that we announce the passing of our beloved mother Margret Susan Dales. 'Maggie' passed away peacefully in her sleep at Hospice Halifax in the early hours of November 18th, 2023 with her children by her side and with a group of the most amazing hospice staff ensuring she was as comfortable and as well taken care of as she possibly could have been until the end.
Mum will be deeply missed by her husband, Donovan Dales, her first husband, Roland Street, her children, David Street, Joanne Street, and Graham Street, her daughters-in-law, Kathryn Street, Donna McKay, and Marsha Street, her granddaughters, Abigail Street and Eleanor Street, her brother and family, Steve Powell and Sara Powell, her sister and family, Doreen Perrot, Bob Perrot, Teresa Grist, Jackie Marshall, and Stephen Perrot, her step son's Christopher Dales, Scott Dales, her stepgrandson Benjamin Dales. Mum was predeceased by her parents George Powell and Joyce Powell, her aunt, 'Betty' Paige and her dearly loved grandson, Ryan Street.
Mum fondly told stories of her childhood growing up in the small village of Longwood, just outside of Winchester in England. Her fondest memories were of romping around the countryside and picking armfuls of daffodils from 'the old ruined mansion' grounds just up the road from her.
This sparked Mum's lifelong love of flowers and gardens. If you ever had the opportunity to see one of Mum's gardens then you had a treat! Mum could take a blank canvas of ground and transform it into a plethora of walkways, flower beds, shady nooks, and special spots to sit. She was never done, she was always adding, moving, and making them just that little bit better, that little bit more her.
When we say garden's plural we mean it. Mum moved a lot!! During her adult life, Mum lived in Winchester, Bognor Regis, Yapton, Amberly, Emsworth, Credenhill, Abergavenny, Tillington, Hereford, back to Credenhill, then back to Bognor Regis and finally Llanarth, all of which are in the UK, then in Canada, St Lazare, MB, Moore Park, MB, Minnedosa, MB, Winnipeg, MB, Chester, NS, Victoria Beach, MB, Ajijic in Mexico and finally Lower Sackville, NS (phew, we're exhausted just thinking about it).
In addition to the above, Mum will be remembered for her selflessness, her sense of humour, her love of coffee, travel, the music of Rod Stewart, Formula One racing, her sense of adventure, sticking up for the underdog, and her award-winning smile that would brighten up any day.
Mum's final few years were spent battling cancer which she did with such strength, positivity, and grace. This is the disease that she finally succumbed to. Her analogy was about brick walls, she would say that life sometimes puts a series of brick walls in your way, which you either go over or around, but she said this was the final one and she said she was at peace knowing that she wasn't getting past it now.
When Mum's mum passed, Mum told us a story that some of Gran's last words were that 'everyone will have to manage' when she passed. True to form, some of Mum's last words were the same. She told us plainly that we will have to manage and get on with it, so now enough with this sappy stuff right Mum? Time to get on!!
In lieu of flowers, the family asks that you do either of two things, you can either send a donation to Hospice Halifax or you can plant a tree or bush or purchase an ornament for your garden and remember Maggie when you look at it.


Share Your Memory of
Margaret