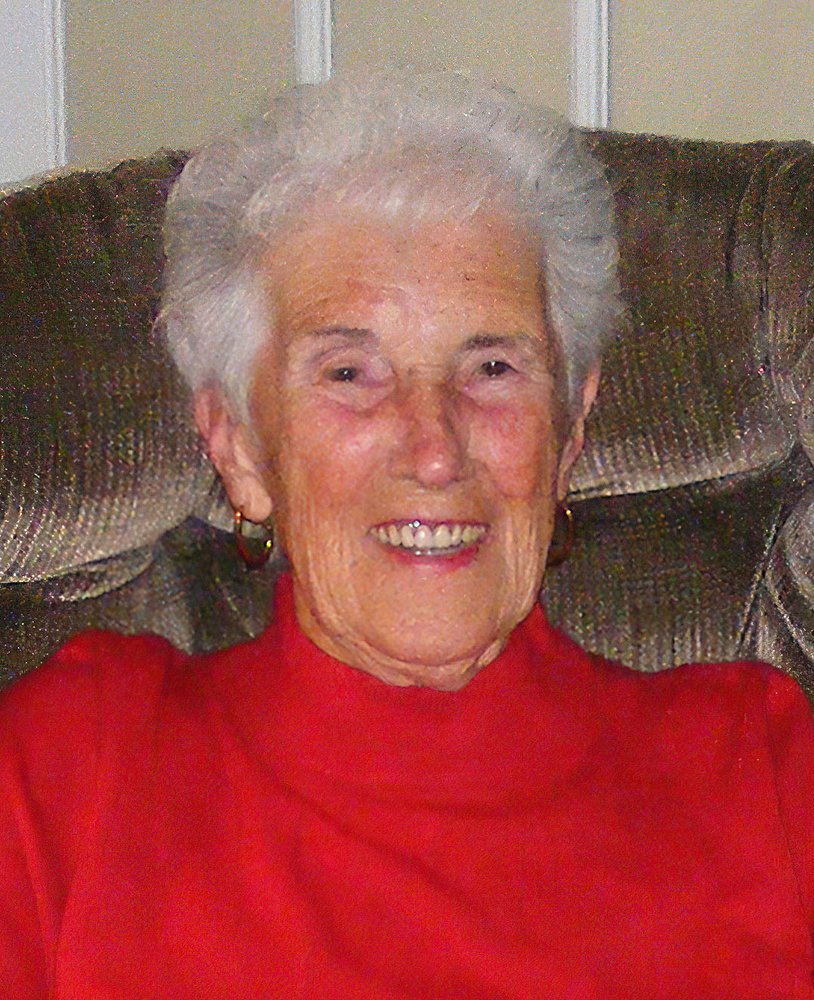 Obituary of Venita Laura Smith
Portuguese Cove Nova Scotia, passed away peacefully at age 97. She was the daughter of the late Ernest & Irene (Redmond) Purcell. She is survived by daughter Priscilla (Pat) Blom and son Gregory Smith, 4 grandchildren, 6 great grandchildren, and 6 great great grandchildren. She was predeceased by brothers Arthur, Ross, Vern, Cyril and sisters Thelma and Alice.
Venita's long life was shaped by the practical and hard-working examples of her youth; from growing up in a family and community where her father, Ernest rowed his catch to market in Halifax; where her mother raised a family of seven while running a general store and knitted woollen goods; where her family built a community church. These practical honest examples to live your life by were important parts of Venita's long life. Rich with family and friends in the beautiful village of Portuguese Cove.
She was a woman who was fiercely independent. Venita was a positive influence on people and in all situations. She had kind words for everyone and looked for something good in each and every day. Venita had a long career in management at Sears and she enjoyed a long, happy active retirement after her 25 years of service. She made many wonderful long friendships and always enjoyed the company of others; a conversation about "the girls" at work; spending time with her lifelong friends in Portuguese Cove; working in her garden filled with brown-eyed susans that her mother originally brought to the cove from the farm in Hodson; her favourite Montreal Canadians and of course baseball; which she enjoyed so much she often took her vacation during the World Series. She even brought the first television set to Portuguese Cove, filling the homestead with local curiosity.
Portuguese Cove was her home port with family heritage that dates back to the late 1700s. Beyond the cove, Venita had a spirit for experiencing the world that was undeniable and she travelled with friends far and wide bringing back many memories and mementos. She attended Expo 67, travelled by train across Canada visiting every province, and enjoyed international vacations. While she was a very young girl, she ventured away from Portuguese Cove to be a companion to the lighthouse station family on Sable Island. It was an experience she always enjoyed sharing with stories of ponies and the small bottle of sand she gathered decades and decades ago. With 16 grandchildren, including 6 "great" and 6 "great great", Venita always delighted in visits and meeting the next generation of the family, welcoming them all with an open door at any time they were in her beloved Cove. She will always be in our hearts, conversations and missed in our lives.
Special thanks to the care givers at Camp Hill Memorial Hospital who helped her make the transition from the independence of her own home to continuing care. And also for the compassionate care of the second-floor staff at Arborstone Enhanced Care over the past several years. In lieu of flowers, donations can be made to the Saint David's Anglican Cemetery Fund Portuguese Cove, or a charity of your choice. Cremation has occurred. Out of respect for public health COVID restrictions, a celebration of Venita's life will be held at a later date.