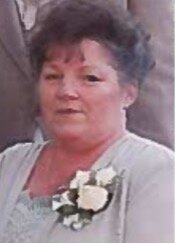 Obituary of Diane Beverly MacPherson
She came into this world with her heart on her sleeve and fire in her belly and left us with an overwhelming feeling of loss on December 8, 2021.
Born and raised a proud Dartmouthian, Diane looked back fondly on her years growing up on Cleary Drive, as one of 14 children. She spent much of her life devoted to her family and always enjoyed the special occasions over the years when her large family would gather to celebrate life's milestones.
She loved to dance; loved music and always made it very clear to anyone who would listen that Elvis Presley, with his signature lip curl and gyrating hips, was Number 1 in her books. Diane enjoyed painting ceramics and collecting bone china. thimbles, souvenir spoons and Elvis paraphernalia. She was a fan of television and would be found watching The Waltons, The Office, The Price is Right and The Family Feud.
Above all, her greatest love was her family. Nothing put a smile on her face like spending time shopping with her sisters and seeing her children and grandchildren laughing, playing and carrying on. There was no one more generous by nature or more direct with their feelings on just about any topic.
She was predeceased by her husband, John; parents, Joseph and Edna Hinch and many siblings. She is survived by her beloved children, Johnny and Brenda (Lee); cherished grandchildren, Morgan, Rowan, Avery, Addison and Carrington; siblings and forever-friends Margie, Judy, Sharon, Gail and Josie and many nieces and nephews.
Throughout a lengthy battle with cancer, she was shown tremendous love and support from family, friends and the medical community that only added to her strength and vigor. Diane leaves behind a void that will never be filled, but we are comforted knowing she is now reunited with family. She is resting peacefully with the angels and dancing pain-free to the King of Rock'n Roll.
"Love me tender,
love me sweet,
never let me go.
You have made my life complete,
and I love you so." – Elvis Presley
Cremation has taken place under the care of Maritime Cremation Centre. In keeping with Diane's wishes and due to Covid restrictions, a formal service is not scheduled. Memorial donations to the Canadian Cancer Society or the Heart and Stroke Foundation of Canada would be appreciated. Condolences may be sent to the family by visiting, MaritimeCremation.ca


Share Your Memory of
Diane