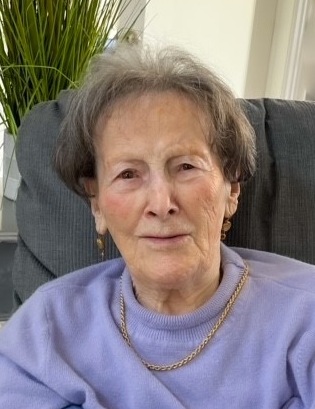 Obituary of Marian Frances Porter
Marian Frances Porter passed away peacefully on August 19th, 2023 at the age of 94 with the love of her family surrounding her. Daughter of Major Melbourne P. & Evelyn (Hall) Neily, Marian was born on September 25, 1928 in Middleton, N.S.
Following graduation from MacDonald High School she attended Nursing School at Fisher Memorial in Woodstock, N.B., where she graduated as a Registered Nurse in 1949. She worked in the Fundy Hospital, Blacks Harbour, N.B. until February of 1951 when she joined the esteemed Para Rescue Course of the Royal Canadian Air Force. A true pioneer for women, she became the first female Flying Officer in Canada to parachute on an organized course with the RCAF, successfully completing more than 26 jumps including numerous rescue missions and mercy flights. In 1955, she participated in Operation Pike's Peak at Lowry Air Force Base, Denver, C.O. which was the first ever joint exercise with the USAF/RCAF. She was the last active Para Rescue nurse in the RCAF in 1956 when she left the Forces. Marian returned to Nova Scotia where she utilized her nursing skills in the field of Public Health for the greater South Shore area, N.S. She married the love of her life, Richard Frederick Porter II, on May 15, 1965 and settled in Chester Basin, N.S. Marian gave freely of herself and, to name a few, volunteered through the Victorian Order of Nurses, The Halifax VG Hospital, The IWK Children's Hospital, The Heart & Stroke Association, the Canadian Cancer Association and served as a past President of the Friends of the Greater Halifax VON.
The simplest pleasures in life brought great joy to Marian. She had a wonderful ability to find happiness in her daily activities and enjoyed traveling, quilting, knitting, gardening & bridge. She found beauty in everything from the spring wildflowers to the changing colors of the fall leaves, and always in the sound of ocean waves. Her genuine and pleasant personality was contagious to everyone she met and she touched the lives of many. She gave the best hugs. She was graceful & gracious and, even in her pain, she never complained. Marian is survived by her daughter, Janie; her grandchildren, Justin Felix & Kaitlin Zwicker; her granddaughter-in-law, Candice Felix; her great-granddaughter, Payton Zwicker and her dear friends; Natalie Abraham & Marlie. She is predeceased by her husband, Richard Frederick Porter II and her many siblings.
Her family will continue to honor her legacy by living life to the fullest, keeping tradition and the family values she instilled as their foundation.
The family wishes to express their gratitude to the caregivers of Laurels Lake Senior Residence for their exceptional care of Marian over the past two years.
A service is scheduled for Marian at St. Luke's Church in Upper Tantallon on Thursday, August 31st at 11am. Private committal to follow for immediate family only . Memorial donations may be made to St. Luke's Church, Upper Tantallon or the Canadian Heart & Stroke Association on her behalf.