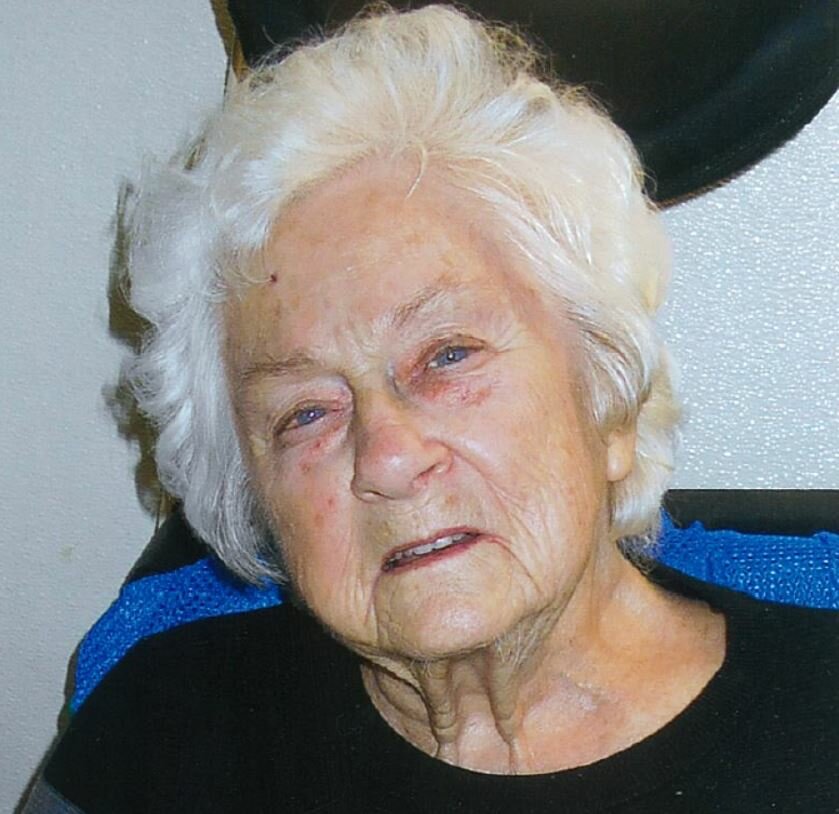 Obituary of Elizabeth Carolyn Conrad
It is with profound sadness we announce the passing of Elizabeth (Betty) Carolyn Conrad, age 92, on August 1, 2023 in Halifax, Nova Scotia, after a brief illness.
She leaves to mourn, her sons: Dale (Nancy), Portage la Prairie, MB; Alan (Jacque), Liverpool, NS; Jeffrey (Valerie), Timberlea, NS; and daughter Rebecca (Shaun), Crousetown, NS; her grandchildren: Michael (Brandi), Ryan (Sabrina), Cory, Cale, Emma, Scott (Tasha), great-grandchildren Owen and Summer, step-granddaughter Megan, step great-grandson, William. She was happiest surrounded by her family and always cherished the memories of spending time together.
Betty was born to Gordon and Elizabeth Ramey on February 21, 1931 at the family home in Crousetown, NS. As a young adult, she had various jobs: a teacher at the local one-room school house and later a store clerk and waitress. She married Murray Conrad on June 14, 1957 and they were happily married for 24 years. She excelled at being a homemaker and mother. With the exception of a few years, she spent most of her life in Crousetown at the family home, until she moved to the Northwood Seniors Residence in Halifax in 2022.
She was predeceased by her husband, Murray; son, Richard and brother, Owen.
Betty was a devoted lifetime member of St. Andrew's United Church, Crousetown as well as the oldest church member. She was treasurer of the UCW group and secretary of the congregational meetings for many years.
She was an avid reader, a passionate Scrabble player, a crossword puzzle expert and trivia buff. She had a keen interest in genealogy and her family's history and enjoyed reminiscing about "the good old days", often telling stories from her younger years. She was a cat lover and had acquired many over her lifetime. She had a talent for handiwork and created many beautiful items over the years through quilting, sewing, embroidery, crocheting and knitting. She was also a fantastic cook and baker and knew how to make just about anything.
She was a very kind and happy soul who loved spending time with others at family gatherings or with a friend over coffee.
In addition to a large and extended family, Betty had many friends, including several life-long friendships from her early childhood and cherished community members. She always welcomed a visit or phone call. She had a great sense of humor and had a very positive outlook on life. Many of her children's friends considered her to be a "second" mother to them.
Betty had the rare quality of seeing the good in everyone and everything. She will be greatly missed and very fondly remembered by all who had the good fortune to know her.
A funeral service will be held on Saturday, August 12th at 1:00 p.m at St. Andrew's United Church, 1246 Italy Cross Rd, Crousetown, NS, Reverend Neil McEwan officiating. The service will be followed by a family-only interment in the church cemetery, followed by a public reception at the Petite Riviere Fire Hall,18 Petite Riviere Road, NS from 1:30-3:30.
By request, family flowers only. We ask that donations in Betty's memory be made to: Northwood Seniors Facility, Halifax, NS, or St. Andrew's United Church, 1246 Italy Cross Rd, Crousetown or to a charity of your choice.
The family would like to extend a heartfelt thank you to Dr. Claire Knowlan, Roger, Barb and the nursing staff at Northwood Terrace in Halifax for their exceptional care and professionalism. Also, a special thank you to Northwood resident, Shirley Mackenzie,for your friendship to our mother during her time there, and to Shirley Turner and Rev. Neil McEwan for your support, compassion and guidance during this difficult time. Your kindness will always be remembered.
A mother holds her children's hands for a while, their hearts forever.